You want to
return an item?
You have made a purchase in the 3idee Shop and want to return your products?
That's a pity but no problem at all!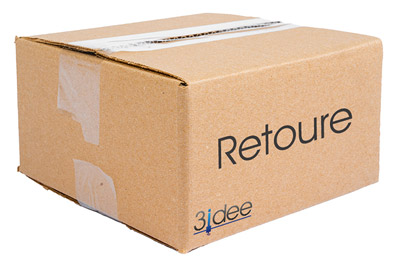 How does the return process work in detail?
Fill in the return form, indicating your order number and the item you have purchased.
Print out the completed return form and enclose it with your return.
Take the packed parcel to the nearest Pickup Shop or Packstation.
As soon as the parcel has been returned to our warehouse, your return will be processed and your money will be refunded.
Download return form
My article is broken. What to do?
How long do I have to send something back?
3idee offers a return programme within 14 days of purchase. If your order is older than 14 days, please contact us and describe your case and why you would like to return the item. We will try to find a solution together with you. For returns, please use the returns form.
Contact us
When and how do I get my money back?
Refunds are usually made using the original payment method. Your refund will be issued within 1-2 working days after receipt of the goods. Depending on the payment method, the amount will be refunded immediately or after a short time.
Returns of products ordered via Amazon must also be processed there. The Amazon online return centre can be used for this purpose. As long as the products are not used and undamaged, you have 30 days from receipt of the goods to do so. After processing your Amazon return, you will receive your money back. If you have missed the deadline to initiate a return at Amazon, please send us an email to support@3idee.eu and describe your concern. Our product specialists will then get in touch with you.